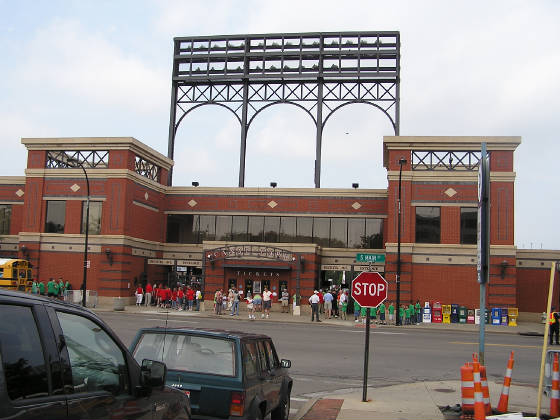 TEAM ::: AKRON AEROS
LOCATION ::: AKRON, OHIO
MY FIRST GAME :: JULY 10,2003
OPPONENT ::: BOWIE BAYSOX
LEVEL ::: EASTERN LEAGUE - AA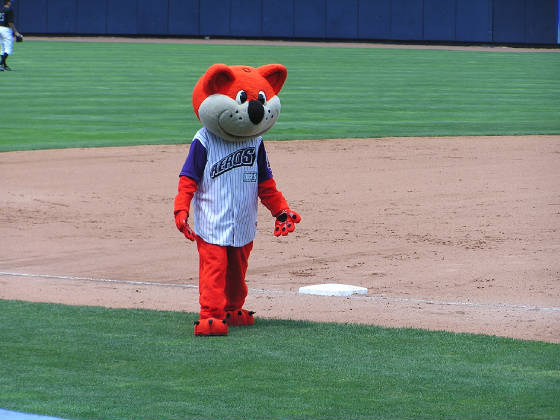 RATINGS

BALLFIELD ::: D
SCOREBOARD ::: B-
FOOD ::: C+
FACILITIES ::: A-
MASCOT::: A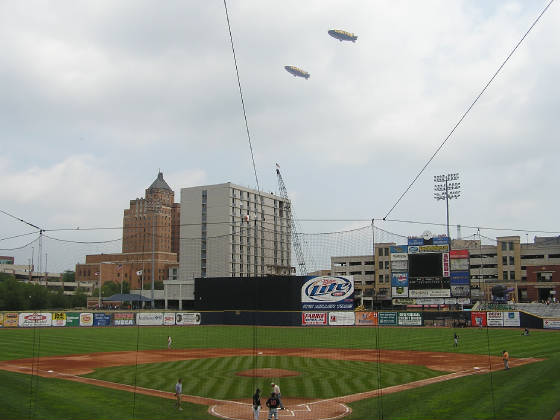 MY TAKE ON THE PARK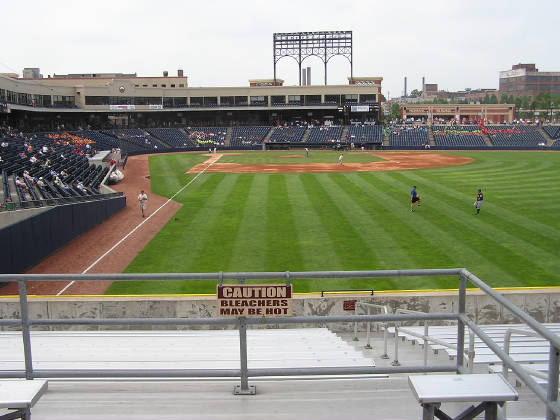 MY FIRST VISIT TO CANAL PARK WAS IN 2003. IN 2006 I RETURNED TO TAKE IN
A GAME BECAUSE I REALLY LIKED THE WAY THINGS WERE HERE. IT APPEARS AS THOUGH NOTHING NEW HAS BEEN ADDED SINCE MY PREVIOUS VISIT, AND THE PLACE APPEARS TO BE SUFFERING FROM NEGLECT.

CANAL PARK IS PRETTY EASY TO FIND OFF THE HIGHWAY, A CLEARLY MARKED ROUTE FROM THE INTERSTATE EXIT TO THE PARK IS PROVIDED. $5 PUTS YOU IN ONE OF THE MANY GARAGES LOCATED WITHIN 3 BLOCKS OF THE PARK.
THE EXTERIOR VIEW OF THE PARK STILL LOOKS GREAT, THE DARK BRICK EXTERIOR WITH THE CLASSIC LIGHT TOWERS.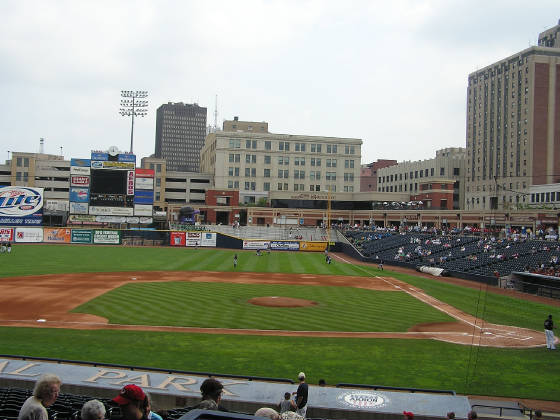 ONCE INSIDE, A SPACIOUS CONCOURSE AWAITS BUT LIKE SO MANY OTHER TEAMS, THEY HAVE FILLED ALL OF THE SPACE IN THE CONCOURSE WITH VENDORS SELLING EVERYTHING FROM ALUMINUM SIDING TO SNOW CONES.

THE PLAYING FIELD HOWEVER WAS MY BIGGEST SURPRISE. TO BE FAIR, I WAS IN AKRON FOR A LATE JUNE AFTERNOON GAME AND THERE WERE MANY STORMS IN THE AREA, BUT THE FIELD WAS MANY DIFFERENT COLORS OF GREEN. AND THAT WAS NOT
DUE TO THE SHADING, WHICH WAS ALSO THERE.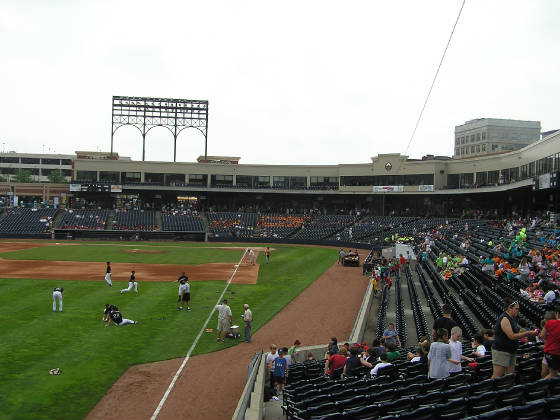 DOWN THE 1ST BASE LINE THERE ARE MORE CONCESSIONS AND THE TEAM STORE, BUT THE BRICK DOESN'T LOOK AS WELL KEPT AS IT USED TO. TO AGAIN BE FAIR, IN CENTER FIELD HERE THEY ARE IN THE PROCESS OF TEARING DOWN A 6 STORY
HOTEL WHICH DOES NOT ADD ANYTHING TO THE PARK. THERE IS SOMETHING VERY
UNATTRACTIVE ABOUT A BUILDING BEING TOWN DOWN.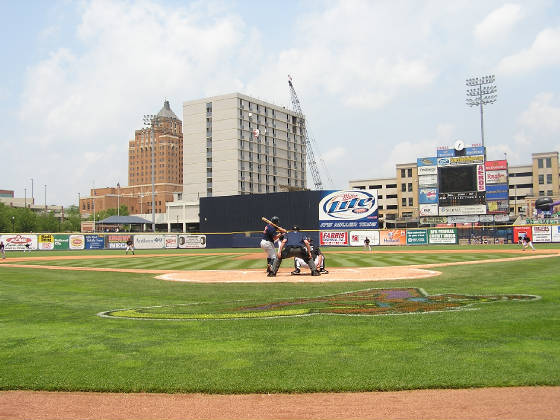 AKRON IS STILL A GREAT PLACE TO SEE A GAME BECAUSE ASIDE FROM ALL OF THE COSMETIC THINGS, THEY PUT A GREAT PRODUCT ON THE FIELD, THE SEATS ARE SPACIOUS, AND THEY HAVE THE ALL IMPORTANT CUP HOLDERS AT THE SEATS. STILL, THE FOOD ISN'T THE CHEAPEST AND THE TICKETS ARE KIND OF HIGH.
THIS ALL BEING SAID, LIKE IN NEW BRITAIN WHERE THE TWINS ARE CALLING PLAYERS UP REGULARLY, THE SAME HAPPENS IN AKRON WHERE GOOD PLAYERS TAKE THE HOUR OR SO DRIVE NORTH TO THE MAJOR LEAGUES.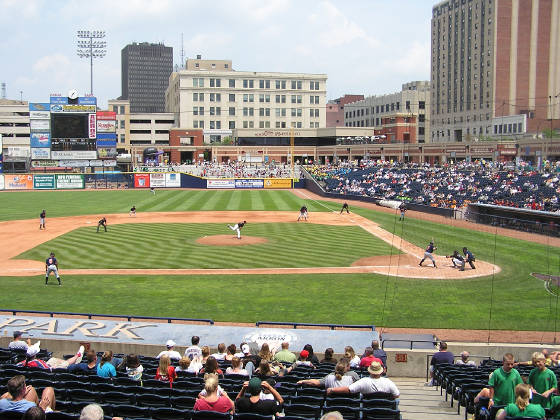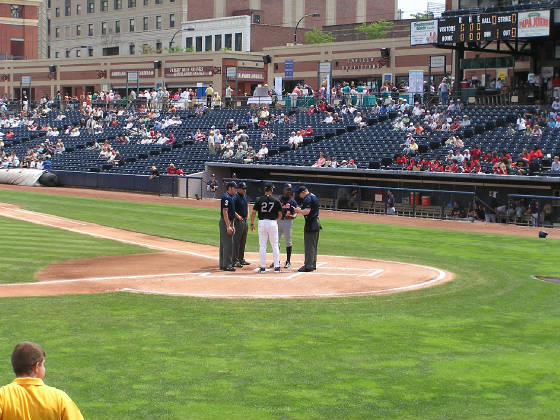 THE LINE UPS

BOWIE MANAGER :::
28 Dave Trembley

AKRON MANAGER :::
45 Brad Komminsk

BOWIE BAYSOX

6 B.J. Littleton cf
9 Mike Fontenot 2b
32 Keith Reed rf
39 Juan Diaz dh
25 Ivanon Coffie 3b
5 Kris Wilken 1b
10 Josh Hoffpauir lf
16 Eli Whiteside c
4 Ed Rogers ss
24 Dave Borakowski p
33 Brandon Agamennone LP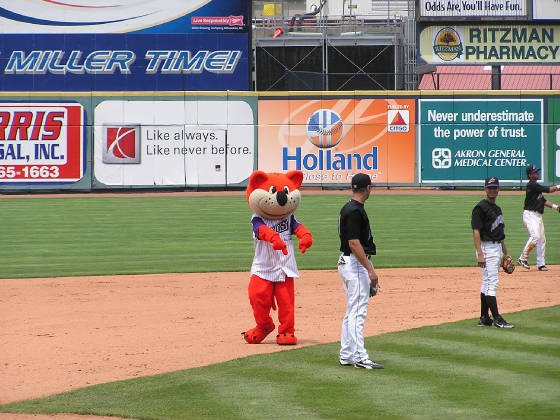 AKRON AEROS

6 Joe Inglett 2b
12 Hector Luna ss
17 Grady Sizemore cf
10 Nate Grindell 3b
40 Eric Crozier 1b
23 Luke Scott lf
50 Victor Valencia c
26 Tyler Minges rf
7 Alex Requena dh
41 Fausto Carmona p
29 Ryan Larson WP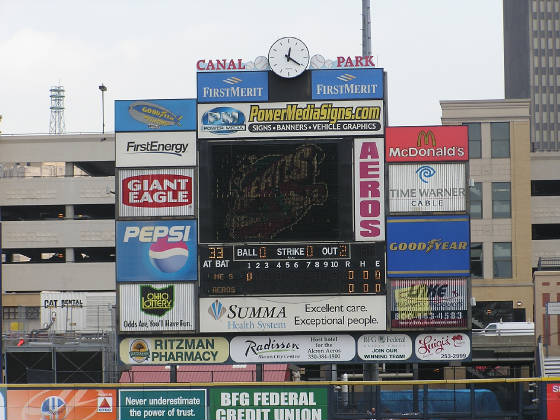 BAYSOX 000 201 101 010 0 ... 6 17 0
A E R O S 000 101 030 010 1 ... 7 14 0
TIME ::: 3:56
ATTENDANCE ::: 6,837
WEATHER::: 75 MUGGY, OVERCAST


SEND ME AN E-MAIL

LINKS
The Official site of the Akron Aeros
Located about 80 mins northeast of Akron - My Mahoning Valley Eastwood Field site
The site for Akron's own Goodyear Tire
Akron weather from WEATHER.com